While my objective for pursuing the training was to receive a teacher certification… I finished the program with so much more.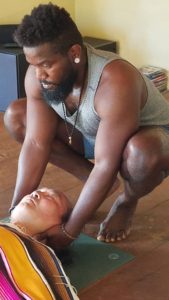 Stephen and Kristen of Bethel Farm have created a wonderful community and family of yogis and people who believe in the interconnectedness of all human beings. The energy and spirit of the training was charged with the love for "all beings, everywhere". As a student, I was tasked with finding the light and beauty in all things and through all situations, be it difficult or easy. Through daily asana practice, meditation, chanting, ancient text study, gardening, community service, music and drumming, and much more… my spiritual life and mental health were enriched and recharged.
Stephen is a phenomenal teacher. His concern and guidance for each student was sincere, nurturing, and kind. Stephen's ability to teach dynamic, challenging, fun sequences and flows is a gift. Having completed the 4-season teacher training at Bethel Farms, I totally understand why so many amazing teachers and students jump at the chance to study with Stephen at Bethel Farm. The family of yogis there have truly impacted my life in lasting ways… and I am eternally grateful for having the opportunity to study with Stephen Bethel and having become a part of the community at Bethel Farm.