Bethel Farm believes in cultivating community. One seasonal way we do this is by hosting several Farm-to-table dinner events throughout the bountiful summer and autumn months. Chef Tracy expertly showcases our own home-grown organic vegetables in a vegan plant-based feast that will be sure to satisfy all types of palates.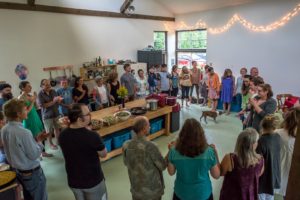 Feel free to come early for the complimentary all-levels yoga class beforehand, or just spend a little time walking the land or sitting by the pond before meal time. The event is held in our spacious dining hall, where the high ceilings enhance the live music that we procure to accompany the dinner.
Whether you make this event your introduction to Bethel Farm, or you have been coming for years, we see hope to see you at the next Farm to Table event. Notifications for these events usually go out via email, facebook and this website.
AVAILABLE ALL YEAR TO GUESTS
The same delicious Farm to Table experience is available throughout the year to participants in the many retreats and yoga teacher trainings that are held at Bethel Farm. We pride ourselves on the fresh picked and locally sourced vegetarian meals prepared by chef Christine Fletcher, that will enhance and elevate your stay here, whether you stay for days or weeks.
Great food is truly the fifth pillar of our foundational project, along with creating community, yoga, organic farming, and immersing in wild nature.
Dining at Bethel Farm, you come in to direct union with the healing and generative power of the earth.
For more information please contact us.