Retreat Dates: August 30th to September 1st, with the option to stay until Sept 2nd.
Retreat cost includes programming, 6 vegetarian meals, and lodging: $390 per person.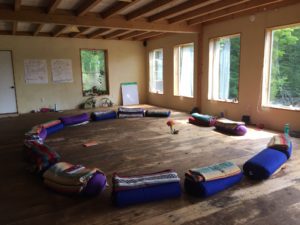 Option to stay Sunday evening, includes dinner, brunch and access to sauna, swimming, and self-guided hiking for $90.
Join Mimi Budnick and Katie Lieberman for their annual retreat at Bethel Farms in Hillsborough, NH.
During the retreat Mimi and Katie will lead you through nourishing all-levels hatha, yin, and restorative yoga practices and create the opportunity to go deep within through guided meditation and journaling. The theme for the retreat will be transition and transformation as we say goodbye to the long warm days of summer, and welcome the abundance and gifts of fall.
Free time will be built into the weekend to hike on the beautiful grounds surrounding the retreat center, swim in their pond, take part in a sauna, sit by a fire, or simply relax and take it all in.
Katie Lieberman has been teaching in the Vini Yoga tradition for over twenty years and has done advanced training in Yin Yoga with Josh Summers. Mimi Budnick has been teaching for 10 years. Originally trained in Vinyasa, Mimi also has extensive training in Restorative and trauma sensitive approaches to yoga. Mimi and Katie are co-facilitators of the Yoga Teacher Training at Breathing Time Yoga in Pawtucket, RI.
If you are interested in attending or have questions email: [email protected] or [email protected]