With Rajeshwari Gretchen Carmel.
JULY 19th, 7-9pm, 2019.
Register at Bethel Farm at the time of the event.
What is Mantra? What are Mala beads? Is Mantra part of the Yogic Path?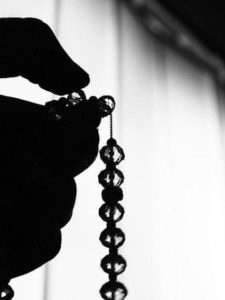 Join Raji for an introduction to the world of Mantra. The repetition of Mantra, called Japa, is an ancient meditative tool which can ease suffering and bring us closer to our true potential. It is a powerful modality that can be applied to all life situations. With the proper guidance, the practice of Mantra can change your life, plus you need not have any experience with Yoga or Mantra or have any specific spiritual belief to obtain the benefits!
During this workshop, you will:
Learn the history and energetics of Sanskrit Mantra,
Understand the origin and symbology of the sound of OM (AUM),
Learn what a Mala is, how to properly use and cleanse it ,
Experience simple, effective meditation and breathing techniques,
Learn a variety of mantras for common problems in everyday life, with their meanings and applications,
Experience the power of group chant,
Learn how to bring Mantra into your everyday life to manifest deep peace, healing on all levels and transformation.
Each participant will receive handouts, plus a special gift to help support a home Mantra practice!
THIS WORKSHOP MAY BE USED AS CONTINUING EDUCATION CREDITS WITH YOGA ALLIANCE.
Rajeshwari is a designated YACEP, Yoga Alliance Continuing Education Provider, with course credit hours honored by Yoga Alliance.