Saturday October 5, 2019
We are proudly hosting our first Field Day ever.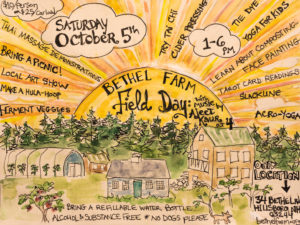 Let's come together to celebrate our rural community full of talented people. Sacred music by Ajeet Kaur & Ezra Landis will cap off the afternoon with an enchanting musical experience from 4-6.
Bethel Farm Field Day Workshop Offerings: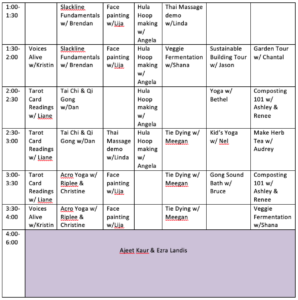 Other ongoing offerings throughout the day:
Art Show in the old studio/dining hall: showcasing the work of local artists in many forms.
Hillsboro Solid Waste Advisory Board tent w/free water refills and seltzer available for donation
Food & Cider Area w/ pit roasted potatoes, bread & garlic tapenade, fresh salad greens, and fresh pressed cider, available for donation
Spread the word, invite your friends.
Pay as you enter: $10/person or $25/carload (to encourage carpooling)
Bring a refillable water bottle – bring a picnic- but not your dog please
also note: this is an alcohol & substance free event