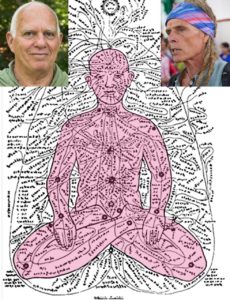 Nerves, Nadis & Pranayama Retreat.
"With the practice of pranayamas, through disciplined breathing, one achieves a balance between body and mind, freedom from tensions, peace of mind and mental health" S.P. Nimbalker, Pranayama
Theory and practice of ancient yoga techniques for physical, mental and emotional health. A weekend in the peaceful and beautiful countryside of rural New Hampshire. Friday November 4 to Sunday November 6, 2016
Leaders:
Robert Moses• Pranayama
Teaches Yoga Teachers Training courses worldwide for 40 years.  Leads annual pilgrimages to India via http://www.namarupa.org
Stephen Bethel • Asanas
Yoga teacher and practitioner since his late teenage years. Caretaker of the homestead at Bethel Farm.
$375 ALL INCLUSIVE 
(Classes, vegetarian meals, shared accommodations.)
Register with credit card or PayPal here:
SCHEDULE FOR THE WEEKEND
FRIDAY NOVEMBER 4TH
4:00 PM Arrival
4:30 PM Restorative Asanas
5:30 PM Introduction to Retreat, each other, Bethel Farm
6:00 PM Dinner
7:30 PM Talk. Pranayama – Breath & Energy
SATURDAY NOVEMBER 5TH

7:30
 Meditation & Chanting
11:00
Brunch
1:00 PM
 Talk, Pranayama and the Nervous System
3:00 PM
Asana Class
4:00 PM
Pranayama Class
6:00 PM
Dinner
7:30 PM
Evening ceremony/puja
SUNDAY NOVEMBER 6TH
6:30 AM Pranayama Class
7:00 AM Meditation & Chanting
7:45 AM Tea Break
8:00 AM  Asana Class
10:00 AM Brunch
12 Noon Pranayama Class – How to continue!
2:00 PM Farewell