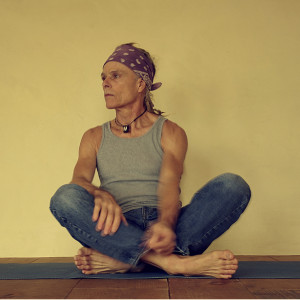 Stephen Bethel, affectionately known by many of his yoga comrades as Bethel, has been an avid yoga practitioner for many years. Establishing a daily mediation practice as a teenager, Bethel's involvement with yoga blossomed into a lifestyle slowly over time.
He became a Jivamukti yoga instructor in 2005. Since that time, he has assisted his mentors Sharon Gannon and David Life in training other teachers and now holds the title of advanced Jivamukti certification.
Bethel has been a dedicated caretaker of the homestead on Bethel Rd and has had held the desire to share this special place with others. Bethel and his partner Kristen began dreaming of a way to bring community together to cultivate yoga, the growing food, and the celebration of other living arts. With the support of the large family they share, Bethel Farm is charged with positive intention and a lot of heart.
When Bethel is not in the yoga studio , he may be found out in one of the hoop houses, doing trail maintenance or finishing up a plaster job. He is very happy to share this magical place he feels honored to call home.
Tuesday, Bethel Farm, 6pm, Open level class.
Wednesday, Bethel Farm, 9 am, Beginner vinyasa flow.
Thursday, RTH Wellness Center, Weare NH, 12 noon, Open level class.
Friday, CHI, Peterborough NH, 8:30 am, Open level class.
Saturday, Bethel Farm, 9am, Open level class.
Second Sunday of every month, Bethel Farm, 9-11:30, Asana Lab.
Third Sunday of every month, The Yoga Space, Keene NH, 10:30 am, Moderate flow.