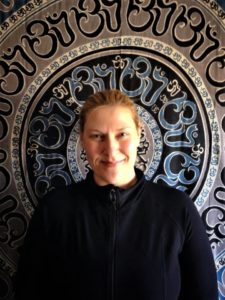 Yoga with Hope — Late Summer Retreat: August 25-27
Enjoy a peaceful weekend of traditional hatha yoga and meditation at Bethel Farm. This relaxing get-away offers the perfect opportunity to enjoy nature and emerge yourself in your practice. The weekend will include four yoga classes, meditation, an essential oils workshop, as well as free time to enjoy the wood-fired sauna, a walk or hike, a swim at the pond or waterfall, and lots of self-care.  Lodging is dorm-style and included in the cost. The resident chef will prepare delicious and nourishing meals for us using farm-fresh organic food.
Price for all yoga, food, and lodging is $360. (Early-bird rate of $320 until July 21.)
PayPal Button at bottom of post.
Retreat schedule:

Friday, Aug. 25
Arrival               4:00p – 5:00p
Gentle yoga      5:30p – 6:40p
Dinner              6:45p – 7:45p
Chakras meditation  8:00p – 8:45p
Silent time         9:30p – 8:00a
Saturday, Aug. 26
Yoga                9:00a – 10:45a with Stephen Bethel
Brunch              11:00a – 12:30p
Hiking / sauna / swimming / reading / napping / massages 12:30p – 3:30p
Yoga workshop 3:30p – 5:30p
Dinner              5:45p – 7:00p
Essential oils workshop  7:15p – 8:30p
Meditation         8:30p – 9:00p
Silent time         9:30p – 7:30a
Sunday, Aug. 27
Snack               8:00a
Yoga workshop 9a – 11:00a
Brunch              11:30a – 1:00p
Depart by          1:30p
Contact Hope for more information: hope.aubin@gmail.com.