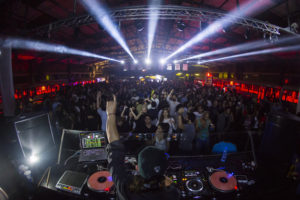 Get down and move to the groove!

Family Friendly, World Music Dance Party with
DJ Captain Planet on Saturday, August 4th,
from 8:00pm-11:30pm. Share this bright and energetic celebration of world music hosted by a world class DJ.

Fueled by an early love of Hip-Hop music, Charlie B. Wilder (the man behind Captain Planet) began DJ-ing and making beats on a Tascam cassette 4-track in his teens. He soon developed an obsession with vinyl records and digging for samples which led to an expanded appreciation of Reggae, Latin and African music as well as a curiosity for other styles from around the world. After being offered a primetime slot playing strictly international music on WNYU's "Passport" radio show, Wilder began making frequent trips to the "World" music section of Lincoln Center's Public Library – eventually acquiring their entire collection. Flipping these same World records the way Hip-Hop producers traditionally sample, these international sounds became the ingredients he used in concocting his trademark "GumboFunk" style.