Retreat Dates: October 25-27, 2019
Price: $432, all meals included (online signup)
Your Guide: Concetta Codding, RYT 500. All her life, Concetta Codding has been drawn towards something greater than herself.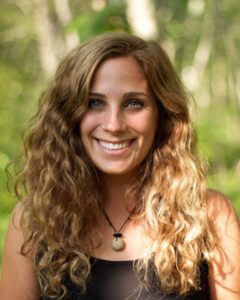 Searching for a greater purpose in the Universe and drawing upon its energy, Concetta studied in Connecticut and received her 200-Hour Yoga Alliance certification in 2017. She went to Peru in July 2018 for her 300 hour Yoga Teacher training with School Yoga Institute. She is currently a certified 500 hour Yoga Teacher. .
This 3-day transformational retreat will take you on a journey inward as you explore the heart. From the moment of arrival to the moment of departure, our time together is sacred. Our daily activities become rituals as we rediscover the power of the heart through three traditions: Yoga, Meditation and Cacao Ceremony. Our hope is to open new doors so that we may experience love and empathy where our hearts blossom like a thousand-petaled lotus flower.
Join in ritual, ceremony, sharing, movement, creativity and deep transformation in togetherness. We will learn from each other, tune into nature, listen to Mother Earth and Grandfather Fire as we join together in sacred circle as dreamweavers, earth keepers, travelers, and divine beings.
Throughout the retreat, we will receive deep nourishment from plant-based nutrition. Cacao is nurturing and equally detoxifying for the physical body. A plant-based diet and fresh juices/ smoothies will support this process. You will leave feeling healthier, more connected, and refreshed.
Cacao is a sacred plant medicine, a powerful guide for inner work. Cacao teaches ancient practices of Unity, Love, and Understanding and allows a deep connection with yourself and all beings. The Spirit of Cacao is a pure joy; it calibrates the cells, activates deep interaction within and connects the dots. Cacao opens the gate to spiritual realms. We are invited to align with our heart, intuition, higher self, and the Divine
For more information on Cacao, Concetta and Retreat activities please go to School of Yoga Institute – Cacao Retreat Details
Instagram: @concettacodding