Sonya Lyn,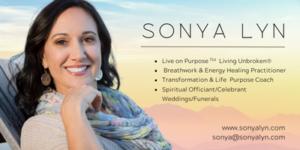 is a country New England girl at heart. She has lived in Hillsboro for the past 20 years. Her love of yoga began with Stephen Bethel here at Bethel Farm, where her fiery Aries spirit and passion for vigorous movement inspired her to add a 200-hour YTT in Power Yoga to her extensive healing arts certifications.
Sonya Lyn is the founder of Living Unbroken and Live on Purpose   She is a Breathwork facilitator, Life Coach, Master Energy and Trauma Healing Practitioner, Spiritual Wedding Officiant, Funeral Celebrant, and Yoga teacher and Retreat Leader who shares her calm, soothing style and soulwork to help others heal and discover their power, peace, passion, and purpose.
Running ultra-trail marathons, hiking National Parks, paddleboarding, traveling, writing her book, and practicing breathwork, yoga, and meditation on her front porch are some of her favorite outdoor activities. She has three children, one of whom is in college and the other two of whom are in the military. She enjoys supporting teenagers, individuals, and couples on their journeys of healing and transformation to create healthy, soulful lives and relationships. She quickly fell in love with the profound and powerful transformational outcomes that yoga and breathwork practices create for the mind, body, and spirit.
—
Creating Soulful Lives and Relationships 
& Transforming Pain into Power, Peace, Passion and Purpose