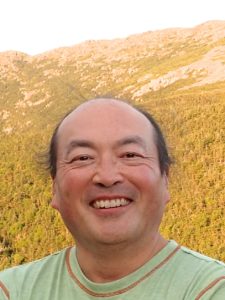 Shota has been a student of Stephen Bethel's since 2010. He was new to yoga and found the Jivamukti style to be just the right combination of vigorous physical and deep spiritual practices. He enjoyed the practice, community, and setting at Bethel Farm  so much that he has taken the following yoga teacher trainings with Stephen:
200 hour Shakti Flow teacher training 2012 (co-taught with Asa Dustin)
200 hour Bethel Farm Four Seasons teacher training 2018
500 hour Bethel Farm Advanced teacher training 2019 (in-progress)
One thing led to another and now Shota feels privileged to fill in as a substitute teacher as needed at the farm.Shota and Kemlo (also a regular Bethel Farm attendee) are blessed to have raised 3 children in beautiful New Hampshire, and recently celebrated their 31st anniversary.
Shota is grateful for the in-depth exposure he has had with these wonderful Yoga teachers: Tracy Donahue, Asa Dustin, and Stephen Bethel.