Audrey Bethel is proud to have grown up at Bethel Farm, and feels grateful to the land and trees and water that have helped her learn about her connection to the Earth. For her, Bethel Farm is a homestead as well as a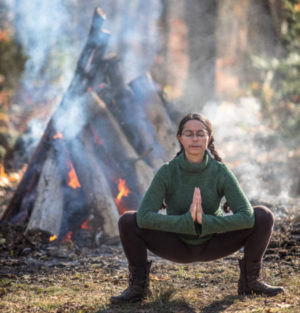 growing community for yoga and the living arts. Currently, Audrey is happy to attend weekly yoga classes as an avid community practioner and loves participating in the Farm to Table events. She feels enriched by all the wonderful people who come to the farm and loves to catch pieces of various retreats when she is able to.
Audrey completed a 200 hour Shakti Flow yoga instructor training in 2012. She substitute teaches when there is the need. In her day job as a school counselor for middle and high school boys, she seeks to incorporate the teachings of yoga into her work with students. She maintains the Farm's Facebook page and is happy to stay connected to folks in the widespread Bethel Farm community through that media feed.