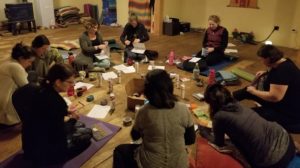 Join Beth Ferruccio and Amanda Barrick
This April 27th – 29th for our Spring Renewal Retreat.
Once again the universe is sending us the people and special facilitators we need to make this retreat unique, and an amazing opportunity to recharge.
The cost for our Spring Renewal Retreat weekend is $365, and once again includes your room, meals,
and many planned activities like arts and crafts, yoga, meditation, sauna, journaling,
dream/vision board making, henna, hiking, and much much more!
Special guest Tara Atwood (200RYT), an Advanced Sound Bowl Therapy Practitioner,
will be sharing her singing bowls and will be available for private sessions during the retreat as well.
A $50 deposit will reserve your spot today.
Payment may be sent via mail to Ducks In A Row Yoga,
c/o Amanda Barrick at 202 Forest Rd, Lyndeborough, NH 03082.
We are only accepting payment by cash or check at this time.
For more information
Call:  603-892-0597
or Email: DucksinaRowYoga@gmail.com