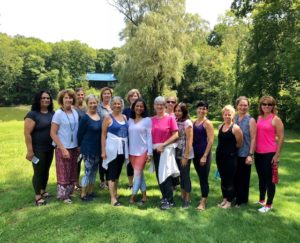 Join Ritu Kapur on the weekend of November 9-11. We will be offering an atmosphere conducive to deep inner reflection and self sadhana. For years here at Bethel Farm we have been cultivating the mood of yoga, of healing and peace that strikes guests instantly when they first arrive. The mood is enhanced by the gardens, that supply much of the produce in season for our meals.
The main yoga studio, with its warm textures, high ceilings and many windows, offers a welcoming space for yoga and meditation. They offer simple accommodations and excellent farm-to-table style vegetarian meals prepared by a chef.
We have availability for 21 people. The facility has 3 semi-private bedrooms. There's one room with 5 beds and a loft on the upper level with 10 beds. Rates are all-inclusive (food, lodging, yoga and meditation classes) and range from $350 to $475 for 2 night stay from Friday to Sunday based on your choice of room. There will be an option to sign up for private Thai yoga massage for extra cost.
Contact Ritu Kapur at 508-329-3338 or info@sohum.org to register and reserve your spot.