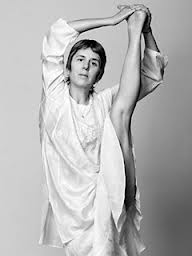 Our dear friend Ruth Lauer returns to Bethel Farm Friday Evening, October 7,  to give a Yoga Philosophy Lecture, 7 to 9 pm.
Saturday Morning, October 8, she will guide an Extended Asana Workshop from 9 am to noon.
We will share a festive vegan brunch from 12:00 to 1:30 pm, prepared by chef Christine Fletcher.
Following the meal, Ruth will read from her new novel and personally sign copies offered for sale at the event.
Don't miss this opportunity to study with this incredibly creative and talented person – author, artist, photographer, and longtime student of Pattabhi Jois of Mysore, India.
Her wisdom, subtle humor, and depth of humanity, are a blessing to all.
Friday Lecture – $25.  Saturday Asana Workshop – $40.
Brunch + Reading – $25. Or Come for the whole weekend – $75.