With Tracey and Jess, by donation
Monday, May 16, 2022 at 7:45 PM
Join us outdoors each month under the full moon.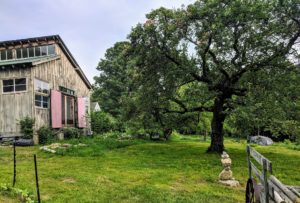 We will start the hike with an intention setting outdoor meditation. We will then sit out on the half mile loop around the farm to take in the energy of the full moon, the flower moon. This moon signals a time of rebirth and growth. This will be our focus as we continue on our path. Once we return to the farm, all are welcome to come back to the circle and participate in planting a seed, asking the universe to assist them in whatever they are manifesting for themselves at this time of rebirth and growth. Everyone is also welcome to bring a mason jar with them if they would like to make moon water. We will fill these jars before we begin our hike and let them sit under the light of the full moon to charge.  After planting seeds, we encourage everyone to share their experiences, thoughts, or feelings about the hike, so that we may offer prayer up to the new moon, open up our hearts of the universe, and give thanks.