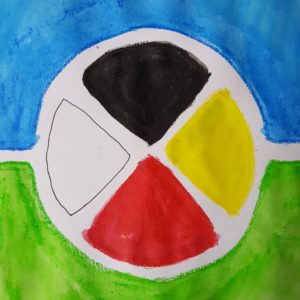 Four Season Yoga  Teacher Training 2018
Develop Your Own Authentic Teaching Voice
200 Hour Training In Four Modules, Winter, Summer, Spring, Fall
WINTER–February 7-12  Focus- the physical body
SPRING–May 2-7  Focus- the subtle body
SUMMER–August 8-13  Focus- Bhakti (devotion)
FALL–November 7-12  Focus- the Royal Path ( eight limbs of yoga)
The magic of a year at Bethel Farm will deepen your journey into the heart of yoga, and help you develop your own authentic teaching voice.
Yoga at Bethel Farm is an earth based spiritual pursuit. In addition to studying the classic tradition of yoga, we will align the art of yoga with the art of growing food, and the connection to wild life. Each seasonal module will include time spent outdoors putting yoga into action – farming and foraging.
The Quad Mod format balances five day immersions with time to absorb the lessons and integrate them into one's life. It allows for some long term practices to unfold between modules too; for instance, a 40 day mantra practice, or a 30 day breath exercise program. The community and instructors will be encouraged to stay in communication between modules, helping one another on the year long journey.
The primary teacher for the training is Stephen Bethel. He will guide students to deepen their own practice in asana, meditation, and pranayama, as a foundation to explore the art of teaching. He will share his extended study of the Yoga Sutra of Patanjali, other foundational texts, and anatomy for yoga.
Guest Teachers will enhance the program with special segments.
Kristen Estey will weave yoga themes into lessons in the organic gardens and greenhouses, foraging for wild edibles and medicinals.
Chef Christine Fletcher will workshop the art of vegan cuisine, and the basics of Ayurvedic cooking.
Other visitors will include Robert Moses on energy and breath, and Gretchen Carmel on mantra.
Bethel and Tom Wilkins will offer an introduction into Native American spiritual practices, and the common threads shared with yoga.
Time will be ample for saunas, seasonal recreation– hiking, snowshoeing, swimming–visiting the waterfall down the road, and simply being alone in the woods.
Over the course of the year, we will cover the full array of subjects required by the Yoga Alliance for a 200 hour teacher certification.
Every season, we will gather late on a Wednesday afternoon, coming together for dinner and Satsang, connecting with the special community we have created.
We will spend the next five nights and days together, and depart Monday evening.
Three wonderful vegetarian meals a day, all accommodations, and the highest caliber instruction will be provided over the course of the year. Total Cost: $3500.
This program is limited to 10 students. A $100 down payment will secure your spot.
Payment plans, partial work trade, and scholarships are available .
Don't hesitate to call us at : 1(603)-464-5985
Or email us at : bethelfarmyoga@gmail.com
BRING YOGA TO LIFE, BREATHE LIFE INTO YOGA
BETHEL FARM YOGA TEACHER TRAINING 2018